While I was in Southeast Asia, I managed to take about 650 photos. Of those, these are my favorite, either because I think they are good pictures, or they bring back strong memories. They are posted chronologically.

[If you cannot see the navigation on the left, please click here.]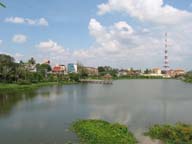 Bao Loc
Located a smooth four hour bus ride from Ho Chi Minh City, the sleepy city of Bao Loc served as a launching pad for my bike tour. This lake marked the center of town.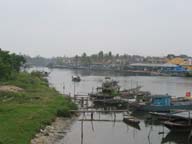 Hoi An
This shot was taken from a boat near the conclusion of a tour to My Son (pronouced mee sohn). While the major industry in Hoi An is tourism (and custom tailoring), much of the population earns a living fishing. These boats reflect both industries.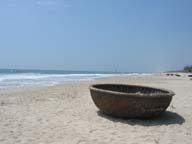 Woven Boat on Hoi An Beach
It is remarkable that these tiny boats are seaworthy, but they can regularly be seen carrying all sorts of produce to and from boats far out in the water.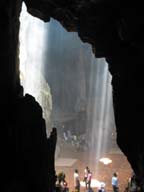 Marble Mountain
Located about 10km south of Danang, just off of China Beach, Marble Mountain is a series of Buddhist pagodas and caves. I was fortunate enough to enter the main cavern in the middle of a incense-laden ceremony and at a time when sunlight streamed through the cracks in the ceiling of the cave.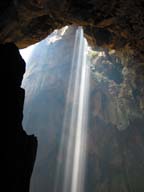 More Marble Mountain
Another picture from the same cave. This is my favorite photo of the whole trip.


Climbing the Hai Van Pass
The Hai Van pass about 20km north of Danang. Bicycling up the mountain provides many photographic opportunites. This beach is home to a small farming and fishing village.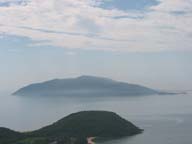 Still Climbing the Hai Van Pass
Another shot from the Hai Van pass. It reminds me a bit of a picture I took earlier this year along Highway 1.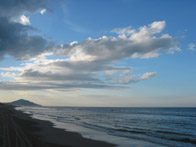 Lang Co Beach
Located one day's ride south of Hue, Lang Co is a small town nestled between a lagoon and the South China Sea. A sparsely populated, but gorgeous beach runs from the foot of the Hai Van pass northward. It is also a fabulous place to go for a swim after a day of riding.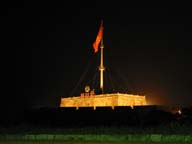 The Citadel in Hue
Built in the 19th century for the Vietnamese emperors, the Citadel is a 10km long, two meter thick wall and surrounding moat that encloses a significant portion of old Hue. Inside the Citadel is the temptingly named "Forbidden Purple City." Hue in general, and the Citadel specifically, has often been the center of conflict throughout the many Vietnamese wars of the 20th century.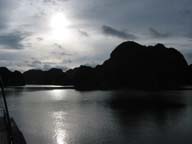 Morning in Ha Long Bay
Located off the coast to the east of Hanoi, the limestone rock formations of Ha Long Bay are known worldwide for their remarkable beauty. This shot was taken early in the morning after a night sleeping on the boat.