| | |
| --- | --- |
| Day 26 to 31 - Washington, D.C. | April 11, 2002 |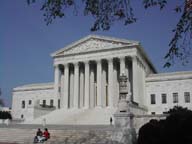 I spent five days exploring D.C. I've never spent a significant amount of time in the city before and I thought it was a great town. It's the first place outside of the bay area that I'd actually like to consider living in. Of course, I was there at exactly the right time of year. The cherry trees were in full bloom, and the weather was just about perfect.

D.C. has a great deal to see for free. I spent time at all of the standard stops: The Smithsonian museums (if you only have time to visit one, I highly recommend the Holocaust Museum, or for a lighter experience, the Museum of Natural History), the White House, the Hill, all the rest of the monuments along the National Nall, and Arlington National Cemetary. I also has a chance to explore Alexandria (where I was staying).

Patty Guarnieri (who works with Senator Tom Carper of Delaware) showed me around the Hart Senate Building and took me into the Capitol Building, where we had lunch in the Senate Dining Room (warning: suit and tie required), and had a chance to view the Senate in action. Rani Saad invited me to a GSB/HBS dinner where I bumped into Jamie and met some new folks. I also met up with Chris Connell, who is finishing up his counterterrorism degree (with honors, of course!) at Georgetown.

---