| | |
| --- | --- |
| Day 21 to 24 - New Orleans to Raleigh | April 4, 2002 |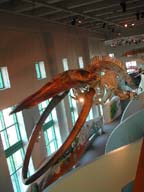 I spent the next few days driving through the South. I didn't really have the time to explore the area much, though there are many things I would have liked to see. I did, however, take a little bit of time to stop in Atlanta and Augusta. Augusta is a beautiful city, but nowhere have I seen more confederate flags. My favorite bumper sticker read: "I have a dream". It was accompanied by a picture of the capitol building with a confederate flag flying on top. I figured it was best not to ask directions of that particular driver.

Eventually, I made my way to Raleigh, where I spent time visiting the Museum of Natural History and the old legislative building. The following day, as I was about to leave, I managed to catch Elaine and Chen, so I spent another day with them. We had pizza, home-made ice cream (chocolate chip, of course), and visited the art museum. I forgot my camera that day though, so there were no pictures to be had.

---