| | |
| --- | --- |
| Day 16 - Mesa Verde & the drive to Santa Fe | March 27, 2002 |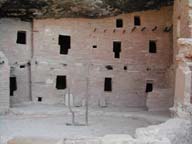 I left Cortez early in the morning and spent a good half-day exploring Mesa Verde and the history of the Anasazi. It was fascinating to see how cultural change and the technological innovations influenced the design and construction of the cliff dwellings.

Apparently, the view from the top of the mesa used to extend for 200 miles. On the day I went, the view was limited to about 60 or 70 miles, but was still quite beautiful.

I left Mesa Verde to make the trip to Santa Fe, with a relatively long detour to Taos.

---