| | |
| --- | --- |
| Day 15 - Arches National Park | March 26, 2002 |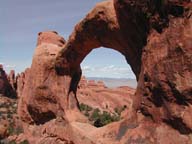 Thanks to Matt Hempey's suggestion, I spent most of a day wandering around Arches National Park. I vaguely remember visiting the park in high school, and even think that I managed to recall the exact arch and location that I precariously perched on for a picture long ago.

If you haven't been to the park before, make sure that you take the time to make it all of the way to the end of the road. For just a couple of hours of hiking effort, you can see some of the most amazing arches in the park, including both Delicate Arch (about half-way along the road) and Landscape Arch (the most famous one, at the end of the road). Landscape Arch is set to collapse any second now (in geologic time, that is), so be sure to make the trip early on the off chance that it decides to call it quits in the short term.

Unforunately, I didn't make it into the park at sunrise, but I'm told that the reds are particularly spectacular then.

I finished off the day by making the drive to Cortez, Colorado, gateway to Mesa Verde. Believe it or not, after a good week or so of almost nothing but scenery, it was nice to have the company of a few thousand people within walking distance. They even have a brand new Safeway.

---