| | |
| --- | --- |
| Day 14 - Hiking Bryce Canyon, Driving, Capitol Reef, More Driving | March 25, 2002 |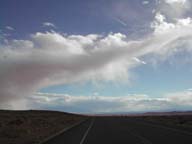 After warming myself up, I started off the day by going for a hike under the rim of the canyon. The hoodoos were certainly more fascinating, not to mention imposing, from below. The wildlife was less wild than one might have liked. A chipmunk, who seemed to be expecting a handout from my backpack, was perfectly content posing just a few feet away from me for a couple of photos.

On my way to Arches National Park, I made an unscheduled stop at Capitol Reef. I wish I had budgeted more time for the park, because it was quite interesting (and probably the most friendly park that I visited). But I had to keep my time short, and made my way to Highway 24 where the weather and scenery once again made for some great photo ops.

Eventually, I made my way to Arches, where I ended up spending the night at Upper Big Bend recreation area, right along the Colorado river.

---