| | |
| --- | --- |
| Day 12 - Zion, Quick changes in weather | March 23, 2002 |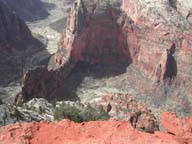 With the possible exception my hike down into the Grand Canyon, Zion has definitely been my favorite park of the trip. The stark landscape and bright red and orange cliff faces when I woke up in the morning were stunning. I packed up my tent and headed off to the scenic drive to pick a hike for the day. I decided to make the trip up to Observation point. The most exciting portion of the trip were the 35 mph winds attempting to blow me off a cliff face (see pictures below). The views along the hike and from the top were well worth the exercise.

In addition to Observation Point, I did the short hike to the three emerald pools near Zion lodge. Unfortunately, it has been fairly dry this year, and the waterfalls were less impressive than they might have been. Still, the blue-greens of the pond water were something that we almost never get back in California.

I wanted to make it to Bryce Canyon by the end of the day, so I left Zion mid-afternoon.

As I was driving, I could see a strong front quickly descend from the north-west. By the time I made it to the thriving metropolis of Hatch, I was in the middle of a snowstorm, despite the continued sunshine. Figuring that it would be somewhat ridiculous to set up a tent in the inclement weather, I decided to spend the night in Panguitch. If you're ever there, stay in the Color Country Inn. The owner was quite nice, and the rates were better than anything else in the city.

---