| | |
| --- | --- |
| Day 11 - Sore calves, leaving the Grand Canyon, Hwy. 89 | March 22, 2002 |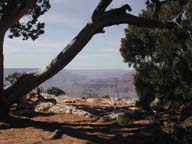 I woke up in the morning and tried getting out of my tent. I quickly realized that my legs, especially my calves, simply weren't going to cooperate. But after a bunch of stretching and a short, painful run, I was able to move again, and went out for a bike ride to Yavapari Point.

My intention was to leave the Grand Canyon early in the morning so that I could make it to Zion in time to do some hiking. The Canyon, however, is a difficult place to leave. By the time I made it past Desert View to the park exit, it was 3:30. If you visit, definitely leave an extra half-day to explore the western portion of the South Rim.

The drive to Zion along Highways 89 & 89A was gorgeous. The scenery goes quite well with Varese's "Deserts", or the Copland Piano Concerto.

I made it to Zion just after sunset and set up camp.

---