| | |
| --- | --- |
| Day 10 -To the Colorado, and back | March 21, 2002 |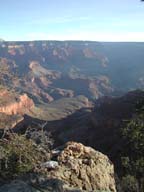 Woke up at the crack of dawn to a temperature of 23 degrees. To work off the cold, I walked the mile-and-a-half to the Bright Angel trailhead and started my way down an icy trail toward Indian Garden.

I arrived at Indian Garden and had a strong urge to hike all the way to the Colorado river. While I was looking at the map to see how reasonable the hike would be, another hiker, Paul, asked to take a look to see if the same trip was doable. After discussing it for a couple of minutes we decided to make the trip despite all of the signs warning against the trip. It was well worth it.

During the trip down, I learned that Paul made a living as a set designer (he is responsible for portions of X-men and the upcoming Jackie Chan flick). We arrived at the Colorado by about 10:30 and spent a while eating lunch and just hanging by by the river.

The trip back, of course, was significantly more challenging. The temperature jumped to 80 degrees around Indian Garden, but we managed to make it back up to the top by 3:30. Paul and I stopped at the top to rehydrate for a while, and I finished up the day by hiking back to the tent. I was sound asleep by 7.

---