| | |
| --- | --- |
| Day 7 - Drive to Las Vegas, Biking in Barstow, Casinos Galore | March 18, 2002 |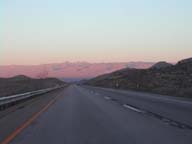 It was Monday morning, and time to start heading east. After grabbing a croissant (and running into the bass drummer from Sunday's drum circle) I got on Highway 10 and starting making my way across L.A. I stopped at Golden Deli Vietnamese restaurant (near San Mario) to grab lunch, and to get tips from the kind proprietor on where I should visit during my biking tour.

From there, it was on to Barstow (which, I'm convinced, is the template for The Simpson's Odgenville outlet mall), where I stopped and did a quick ten-mile bike ride. (Incidentally, I've now driven through two Barstows (CA & TX) and, incredibly, two Fredonia's (UT & TX). Strange.)

I made it to Las Vegas around 8:30, and by 10 I began wandering down the Strip, starting at the Stratosphere, walking all the way down to New York, New York, and back up the other side of the street. Having never been to Las Vegas before (well, not that I had remembered, anyway), it was a fun experience. Mainly, I enjoyed how well the buildings were all designed to capture people. Also, it was fun to watch the reactions of the casino staff as I hung around the high-stakes tables intently following the games and watching the dealers.

I made it back to my room by about 3:30 and promptly fell asleep.

---