| | |
| --- | --- |
| Day 6 - Hanging with Chris: Drumcircle & St. Patrick's | March 17, 2002 |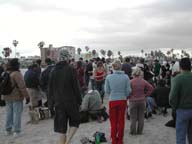 Saint Patrick's Day! Chris and I both love lasagna, so we went out to buy the requisite raw materials and proceeded to cook throw together noodles, beef, and various cheeses. After tossing it in the oven, we set out for the beach, where a regular drum circle gets together every Sunday afternoon. Despite the cold and strong winds, there were quite a few die hards that still made it out. Things were pretty chaotic when we got there since a couple of rude, stoned drummers were throwing everyone else off. But their departure, along with the arrival of a good bass drummer and Chris and I supporting him got things rolling along much more smoothly.

That evening (after eating the lasagna) Chris invited a number of his friends over for a night out at an O'Brien's pub. It was definitely the right way to spend an Irish holiday.

---