| | |
| --- | --- |
| Day 5 - Santa Monica Beach, Chris Tin & Jenn Chou | March 16, 2002 |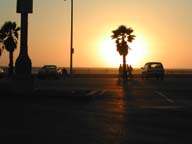 After a short morning bike ride around UCLA, I spent most of the day relaxing and reading at Maria and Tony's place. Eventually, I left to meet Chris Tin for dinner.

It was still cold, but I arrived at Chris's place early and felt the urge to shoot some pictures at the beach, so I walked a few blocks over and strolled around for a while.

Chris and I were hungry when we met up, so we made a quick trip to Joe's Diner around the corner for a hamburger. After dinner, we stopped by an old, converted train station for an art gallery opening.

Jenn Chou dropped by Chris's when we got back, and we spent the evening chatting away.

---