| | |
| --- | --- |
| Day 4 - Getty Center; Night out with Maria and Tony | March 15, 2002 |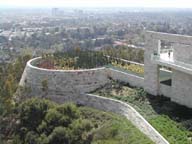 Spent about four hours exploring the Getty Center. The design and architecture of the center is quite extrodinary, especially after learning the core guiding principles. Contrary to popular belief, you don't need to book in advance. You can park across the way at a hiking trail and walk in for free.

Maria, Tony and West Hollywood made for a fun evening. Zagat's recommended Talesai Thai. It was pretty yummy, though it didn't compare with Maria's home cooking the previous night. After wandering around the area for a while, we returned to their neck of the woods and made a requisite visit back to Diddy Riese. Yum.

---