| | |
| --- | --- |
| Day 3 - Beach Biking, UCLA, Maria & Tony | March 14, 2002 |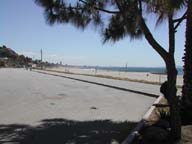 I went to L.A. with the mistaken belief that it was warmer than San Francisco. On my morning bike ride on the beach, cool temperatures and 35 mph winds were keeping just about everyone away.

My brother is considering going to medical school at UCLA, so I spent most of the afternoon wandering around the campus. There were many striking differences between the UCLA campus and others that I've been to. I particularly enjoyed the architecture and general way one interacted with the campus. It was also interesting to note that just about everyone walked around the campus in pairs -- quite a change from the propensity of Stanford folks to walk around singley or in relatively large groups.

Maria, Tony and I finished off the evening with a home-cooked meal and fun with Tony's Playstation.

---