| | |
| --- | --- |
| Jeremy's Road Trip | Start Date: March 12, 2002 |

[If you can't see the daily index on the left, click here.]

Update #2: April 17, 2002
I've posted a bunch more pictures from the last couple of weeks. I was a bit less camera happy during this time, but there is still plenty to look at. New pictures start with Day 20 - New Orleans.
Update #1: March 31, 2002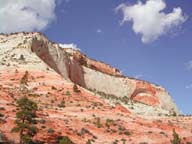 Thanks for visiting!

I've spent some time over the past few days briefly documenting my trip and sorting through all of the pictures I've taken. I've posted several hundred photos up here, so I hope that you enjoy them! There have been far too many highlights of the trip to note them all here, but (aside from visiting friends) a couple of my favorite days have been hiking the Grand Canyon and Zion National Park.

Thanks to everybody who has been kind enough to host me and to take time out of their day to visit. A special thanks to Leo for being the first place with a high-speed internet connection since I left L.A. :)

I had a few issues uploading all of this stuff, so some documents may not have made it. If you notice anything missing or broken, please mail me or give me a ring (650.996.1553).

Many thanks to Katherine for letting me borrow her camera while mine is undergoing repairs.

I hope you're all well!